Holidays on the beach with dogs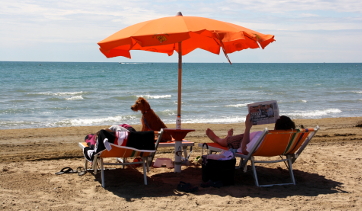 Not only is Bibione incredibly suitable for families and young people, it is also the perfect place to spend a vacation with your dog.
The hotels of Bibione are organized to welcome you and your pets, to offer excursions and activities outside in order to enjoy some fresh air together. Also the residential areas, apartments and residences, have dedicated areas and places for your dogs.
The several buildings and structures offer you the chance to share moments of holiday on the beach with your beloved pets.
Specialized services for dogs
Between Zenith square and the lighthouse, at Bibione Lido dei Pini, you will find an area entirely designated for dogs and their owners: Pluto's beach.
It is open from June to September, full of comforts and services for you both:
sun umbrellas;
sun beds for people and sun beds for dogs;
water cups and leashes;
showers;
veterinary emergency service.
To keep the beach and the sand clean and hygienical, a machine sanitizes the entire area with safe and veterinary products, also during the day.
You can find several last minute offers for apartments and hotels in Bibione, offering the incredible opportunity of a sea side vacation for you and your dogs at a lower price.