Family vacation in Lido del Sole
The hotels in Bibione Lido del Sole offer you comforts and wellness for the entire family.
There are several convenient last minute offers for stuctures in Lido del Sole.
The hotels are located on the west side of the coast, just a few steps from the city center where you can dedicate time to entertainment and shopping.
The beach is full of services and animation activities for children, allowing parents to peacefully lay under their sun umbrellas on the beach.
Discover hotels of 2 stars, 3 stars, 4 stars and choose the one that meets all your needs:
Via Michelangelo, 17 - Bibione Lido del Sole
Between serenity and saving!
The hotels in Bibione Lido del Sole are both sea front or near the city center, and easily reachable by bike through the many cycling lanes of city.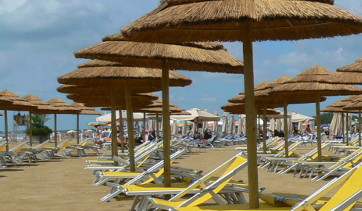 They offer good restaurants, pool with wellness area, Wi-FI, access allowed to dogs, reserved place on the beach with umbrella and beds, accessibility for disabled, and quality check of your last minute holiday.
The buildings are rich in comforts and there is enough space between the numbered places on the beach to guarantee you and your family the privacy and the quiet you are looking for. A special attention goes to "Un posto al sole" with its chacteristic sun umbrellas made of straws. Any time you will be able to go on the beach and feel the sun on your skin while laying on a bed, hearing the waves of the sea, and enjoying the view of the green pine forest behind.
Choose which hotel suits you better and book your last minute holiday in Bibione Lido del Sole.