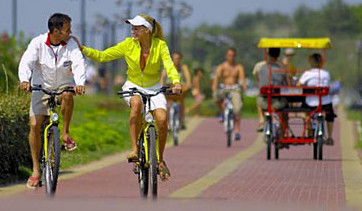 It is a sea side locality rich in events, activities, and opportunities of all types.
Along the coast you can practice sports: beach volley, beach tennis, windsurf, fishing, kayaking, swimming, scuba diving, or the classical pedalò renting with the family or friends.
During summer lots of events and fests are organized to promote gymnastics, zumba, pilates, and many other disciplines for adults and children. You can decide to take a barefoot walk on the beach or to go jogging while enjoying a beautiful sunset.
In order to discover all the incredible landscapes, you can follow the long and numerous cycling lanes of the city that shows you the uncontaminated nature of Bibione and the surroundings. Discover which paths to follow.
For rest and quiet
If you book a last minute offer for apartments or hotels in Bibione, you will take nice walks in the city center, ideal for those who love shopping and would like to taste the local products in the numerous bars and restaurants.
Bad weather should never worry you, because of the many alternatives you will have. Take a dive in the thermal pools of Bibione Thermae and live between wellness and health, visit the most incredible cities of art enjoying Venezia, Trieste, Udine, Pordenone e Portogruaro.
The land of Bibione is not only characterized by the venetian countryside, but by the great valleys situated along the Adriatic coast, the lagoon of Venezia, all the way to the lagoon of Marano, where the best local fish dishes are fresh made only for you.