The whole family on holiday on the beach
In Bibione you will find the right opportunities for adults, children, and young people to spend incredible days of vacation.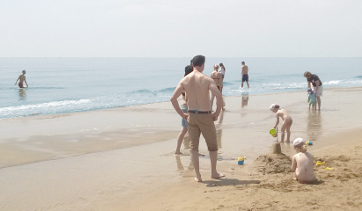 Sports activities on the beach are fun for both children and olders. There are play areas, beach-volley camps and there are lot of sports you can practice with the entire family while enjoying being outside near the sea.
Parents can relax under their sun umbrellas feeling the warm sun on their skin, while their kids are having fun and doing the numerous activities of the animation teams of the beach.
Bibione makes your vacation unique and special.
The best family packages
Apartments, hotels, campings offer several family packages:
discounts for children;
table-chairs and cradles;
play areas;
excursions;
fun parks;
luna park.
In addition, allowing you to meet wellness and fun at the same time, the thermal baths of Bibione are especially indicated for families with small kids, because of its increbile benefits on allergies, colds and ear pains.
Discover which accomodation suits better your needs and book your vacation on the last minute.