A holiday accessible for everyone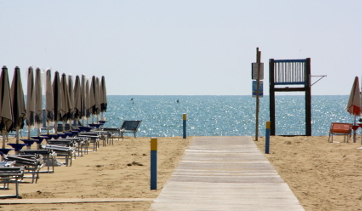 Choose to make your last minute vacation unique and special, choose Bibione.
The city organizes numerous events, concerts, excursions for you, your family, and friends, with an extra regard for those who have disability of any type.
The coast is not only beautiful with its fine-grained and golden sand, it is also wellknown for its shallow and sandy sea bottom, extremely indicated for children, adults, and disabled.
Along the entire shore there are walking paths to follow til the reserved umbrella and beds.
Hotels and apartments are full of comforts and make convenient discounts to allow you to enjoy the holiday at the best.
Specialized and quality services
The different structures along the shore, offer many services to be requested to the team operating on the beach. In addition, you will find:
parking places facing directly the buildings;
ramps in order to avoid stairs;
wide restrooms.
The hotels and apartments of Bibione are a guarantee of high quality services for everyone with special discounts and at a very good price: choose last minute and satisfy all your needs.